Where a product (or material) is intended for use in play by children, of less than 14 years of age, it will be required to be CE marked before that product can be placed on the market in the UK or Europe. Toys for the European market are covered by the Safety of Toy Directive (2009/48/EC) and focuses on the safety aspects of those toys, ensuring that children will not be exposed to any harm.
The scope of the Directive (item intended for use in play by a child of less than 14) can cover a very wide range of products, however it is important to note that not everything that you will find in a toy shop is actually covered by the Safety of Toys Directives. The Directive sets out a list of products that are not considered to be toys; some* of these products are:
Products for collectors aged 14 and above (which bears such intent)
Sports equipment (including roller skates and skateboards for children with a body mass >20kg)
Scooters and other means of transport designed for sport or intended to be used for travel on public roads or pathways
Puzzles with more than 500 pieces
Educational products for teaching purposes used under adult supervision
Fashion accessories for children, which are not for use in play
*See Annex I of the Directive for the full list of items
The term 'for use in play' can also create confusion when deciding if a product is a toy or not, particularly when considering virtually all items can have a 'play value.' The European guidance notes makes it clear; for a product to be considered a toy, the play value must have been intended to be introduced by the manufacturer, however the manufacturer must also consider the reasonable expected use of the product too. A label stating that the product is not a toy can be used to help the manufacturer state their intent, however they must be able to support this claim. If the manufacturer is uncertain as to whether to CE mark their product as a toy or not, then they may wish to consider the following criteria**:
Place of selling (toys are usually sold in toys shops/departments, but for adult collectors are more usually sold in specialised shops)
Target audience of the advertising and packaging
Price (toys may be sold at a lower price than pieces for adult collections)
Small size (clothes for dolls, toy iron boards are considered as toys)
Double use (the uses has to be considered, if there is a significant play value, then it could be considered a toy)
Passive use (out of reach items such as a mobile suspended from the ceiling is not considered to be a toy, however items within reach such as a mobile hung over a cradle, that have a play value, may be regarded as toys)
** Criteria taken from the European guidance on Toys. The list is not exhaustive and is recommended to be used in combination with each other
If your product does fall within scope of the Safety of Toys Directive then it can be CE marked, however where the CE marking cannot be applied it is important to note that other non-CE marking legislation, in particular the General Product Safety Directive (GPSD), is likely apply. In fact, the legislation such as the GPSD will also apply when the toy is also covered by the Safety of Toys Directive to ensure that no hazards have been missed by the Toys Directive. For assistance with applying the scope of the Directive to your product, please contact our technical team or you may wish to contact your local Trading Standards department.
Conformity Requirements
The Safety of Toys Directive sets out two routes to conformity at the choice of the manufacturer. These options are set out below: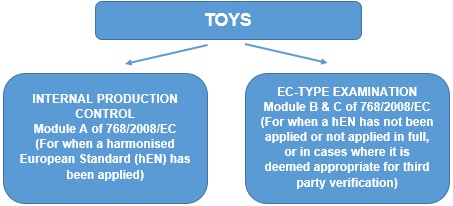 Internal Production Control Summary:
This route is entirely a self-declaration route, although they may employee a third party to complete some of the tasks. The manufacturer must apply a harmonised European Standard (hEN), and undertake the tasks set out in Module A of 768/2008/EC (which are summarised below):
Document a conformity assessment
Compile technical documentation
Ensure the manufacturing process maintains a constant level of conformity
Affix the CE mark and other conformity information
Complete a Declaration of Conformity
EC-Type Examination Summary:
This route requires the manufacturer to appoint a third party (known as a Notified Body) to enable them to CE mark their toy. The tasks are similar to those that are set out in the Internal Production Control route, however amongst other items, the technical documentation will need to be reviewed by the Notified Body and the product assessment will also be undertaken by the Notified Body. When the Notified Body finds the product in conformity, they shall issue an EC-Type Examination Certificate, enabling the manufacturer to complete their own Declaration of Conformity.
Link to the Directive:
Please always refer to the Directive for the full text and requirements: http://eur-lex.europa.eu/LexUriServ/LexUriServ.do?uri=OJ:L:2009:170:0001:0037:EN:PDF
How we can help:
The CE Marking Association assists manufacturers, importers and distributors of toys on a regular basis and we have a range of services to meet your needs. Here are some of the services on offer:
Support with applying the scope of the Directive to your products
Assessments to harmonised toy standards (such as EN 71-1)
Technical documentation compilation
Declaration of Conformity checks
If you need any help with CE marking your toys or similar products, then please contact us on 01564 792349.