Our FAQs
Whether you are new to product compliance or in need a quick refresher, here are some key FAQs on the CE mark and product conformity. If you have a burning question that is not on this page, then please contact us with our Ask A Question form or call the technical team on 01564 792349!
Please don't forget that the requirements for CE Marking can be differ between products and we have kept our FAQs relatively generic to apply to as many products as possible. So please always ensure that you refer back to the relevant Legislation for your product specific requirement. If you need any advice, then please give us a call on 01564 792349.
Are you a member?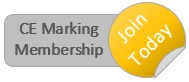 If you are a member of the Association and you have got a question on CE Marking or product conformity, then why not send your e-mail directly to the technical team. Please note that this e-mail address is reserved only for members of the Association and the e-mail filter will unfortunately block non-member questions. If you are a non-member, then please use the form above or why not become a member?