The majority of all electrical equipment and machines, regardless to their operating voltage (or voltage range), are liable to generate or be affected by electromagnetic disturbance. Where such equipment is being sold in the UK and Europe, it is required to be CE Marked under the ElectroMagnetic Compatibility (EMC) Directive. The Directive applies to all equipment, referred within the Directive as 'apparatus,' as well as fixed installations, however there is a small list of exclusions. Several examples*of the exclusions are;
equipment that intentionally radiates for communication purposes (for example a laptop with wifi), such equipment is cover by the Radio Equipment Directive (2014/53/EU), which is replacing the old R&TTE Directive.
medical devices covered by the Medical Devices Directive,
apparatus that is inherently benign (for example a simple cable set),
radio equipment, used by radio amateurs, and
custom built evaluation kits used by professionals, at research facilities, solely for research purposes.
CE Marking under the EMC Directive has been mandatory since 1996, and the current Directive (2014/30/EU) is NOT a safety directive and only has performance requirements. The safety aspect of apparatus emitting radiation is typically covered by other product legislation, such as the Machinery Directive and Low Voltage Directive.
The current EMC Directive (2014/30/EU) came into force on the 20th April 2016, replacing the superseded EMC Directive 2004/108/EC. From, the 20th April 2016, manufacturers should be quoting the new Directive on their Declarations.
You can read more about the safety requirements related to electromagnetic fields on our safety and EMF webpage.
Conformity Requirements
The main route to conformity for apparatus within the EMC Directive is known as 'Internal Production Control' and is entirely a self-declaration process, however a manufacturer may also choose to have their apparatus assessed by a Notified Body (in accordance with Annex III of the Directive). There is a separate route to conformity for fixed installations, which is detailed within Article 13 of the Directive The 'Internal Production Control' process for apparatus, that is set out in Annex II of the Directive, is summarised below: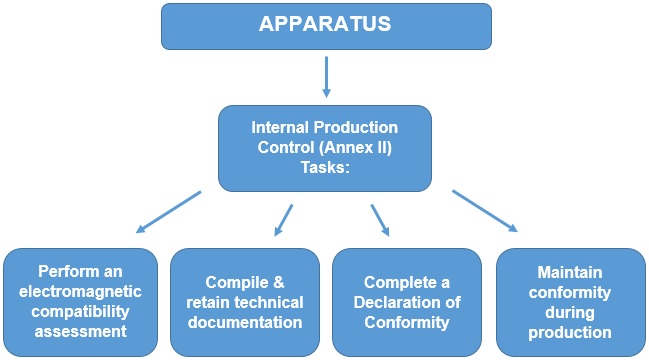 The EMC Directive sets out two protection requirements for apparatus that have to be assessed as part of the electromagnetic compatibility assessment, they are:
the electromagnetic disturbance generated does not exceed the value above which other equipment cannot operated as intended
the apparatus must have a level of immunity to the electromagnetic disturbance that is expected in its intended use, which allows it to operate without unacceptable degradation of its intended use
The Directive does not set out emissions limits, nor does it set out immunity targets to achieve, and as such the EMC Directive does not make testing mandatory! That said, undertaking no testing is often viewed as a high risk option, whereas full EMC testing to applicable harmonised standards, is often viewed as the best route.
Once a manufacturer has completed these tasks and found that the apparatus fulfils all of these requirements, then it can be deemed to be CE marked and is now ready to be placed on the market.
How we can help
The CE Marking Association assists manufacturers, importers and users of machinery and other electrical equipment (including Class 1 Medical Devices) on a day to basis and we have a range of EMC services to meet your needs. We can undertake some or all of the tasks with our compliance services, or we can help bring the knowledge in-house with our training and consultancy services. Here are some of the services on offer:
EMC Testing (on-site/in-chamber) to Harmonised Standards (e.g. EN 61000 series and EN 61326-1)
EMC Testing of Class 1 Medical Devices to EN 60601-1-2
EMC Technical Rationale Support
In-company or public Design for EMC training
North American EMC (FCC Part 15) Testing
For more support on CE Marking under the EMC Directive, or to find out how we can help you, please call us on 01564 792349, or please complete our online enquiry form.
*Please always refer to the full text of the Directive.