There are many types of 'medical devices' and the majority of them will come under the Medical Devices Directive, but there are also two additional Directives that cover two specific areas; 'In-Vitro' and 'Active Implantable Medical Devices'.
An Active Implantable Medical Device is a 'medical device' (as per the definition given in the Medical Devices Directive) that relies upon a source of energy (such as electrical), other than a source directly generated by a human or gravity, for the functionality of the device. The device must also be intended to be totally or partially introduced, surgically or medically, into the patient or by medical intervention into a natural orifice, and which is intended to remain after the procedure
Such devices fall within scope of the Active Implantable Medical Devices (AIMD) Directive (90/385/EEC, as amended) and have been required to be CE marked since the Directive came into force on the 1st January 1993.
Conformity Requirements
For the majority of the devices covered by the Directive, the manufacturer has a choice of either following the conformity procedure in Annex II (EC Declaration of Conformity) or Annex III (EC Type Examination) along with either Annex IV (Verification) or Annex V (Conformity to Type).
The EC Declaration of Conformity route given in Annex II is summarised below: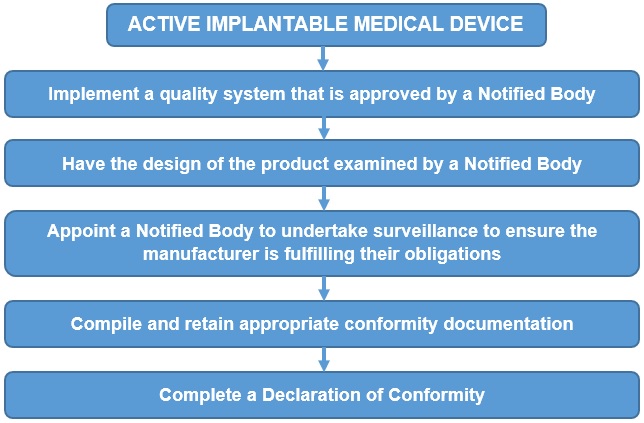 There are special conformity requirements for custom-made devices and devices intended for clinical investigations.
 Further Assistance
 If you need help with CE marking Active Implantable Medical Devices, then please contact the technical team on 01564 792349