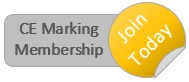 Do you struggle to keep on top of changes in product legislation? Does CE Marking Compliance cause you a headache? Membership can help!

By becoming a member of the Association you can protect your business. We will help you to be aware of changes in Directives and legislation that may affect the ongoing conformity of your products or machinery. You can also enjoy having access to continued support from our technical team through our membership scheme.
Over the last few years many significant changes have occurred in almost all of the product Directives. These changes to the Directives have had a considerable impact on manufacturers, distributors, or importers in the EU. If your company is considering becoming a member, this will enable you to be kept up-to-date with the changes as they happen, in addition to the many other benefits that the Association offers.
Benefits for Members
If you are deliberating about membership, take a look at what we offer (restrictions on usage may apply):
• CE MARKING HELPLINE


All members have access to our unbiased advice helpline, where we can help members to understand and resolve any issues about CE Marking.

• FREE EMC QUICK-LOOK-SEE
Members are allowed access to our EMC test facility (at Wootton Park), where we offer a FREE quick look see (up to 1 hour), giving them the opportunity to undertake an EMC test within our chamber. Testing is permitted by prior appointment.

• FREE FACE-TO-FACE ADVICE
For members who want advice and would prefer to get round a table, we offer members a free meeting up to 2 hours at our offices to discuss any CE marking related topics.

• ANNUAL CE MARKING SEMINAR
All members will be invited to attend our FREE seminar, covering the basics of CE Marking, as well as hot topics and forthcoming changes in product legislation.

• REGULAR NEWSLETTERS & LEGISLATION UPDATES
To help keep you informed and up to date, members will regularly receive E-Newsletters and have access to guidance to help explain the important changes in legislation.

• HELP & DISCOUNTS ON STANDARDS
Regular updates on Harmonised Standards will be published, with members able to access a 25% discount on BSI standards, as well as having access to view our library of British, European and International standards.

• DISCOUNTS ON TRAINING
Full members can access discounts of up to 50% on selected public training courses and workshops. Discounts available will be listed on our online training calendar.

• FREE CE DECLARATION CHECK
If you are unsure as to whether your Declarations are up to date, then members can have their Declarations checked for FREE, with feedback on any observations.

• KNOWLEDGE BASE WEBSITE
All members will have access to our exclusive online member's area, featuring all the appropriate tools and resources to assist you with your product compliance.

• DOCUMENTED ADVICE SERVICE
Full members can access a 50% discount (on our standard hourly rate) for our formal response service to a technical question.

• MEMBERSHIP CERTIFICATE
All members will receive an annual certificate of membership.

• MULTIPLE USERS AVAILABLE
Every membership is companywide and access is restricted to a number of users, dependent upon the size of the company. Additional users are available.
1-5 employees (1 user); 6-50 (2 users); 51-249 (4 users); 250+ (8 users).
Every membership is company wide (although limited by site) and the cost is dependant upon the size of the company. Additional users can be added to the membership at a cost of £50.00 per user for every 12 month period of membership.
Footnote #1: Sections marked * are Association Scheme Benefits
Footnote #2: All benefits are subject to reasonable usage and may be subject to change. 'Reasonable usage' is usually considered to equate to 1 day of assistance in the first year and 5 hours per year thereafter, subject to discretion of the CE Marking Association. Restrictions may apply. The benefits described here will apply from 1st July 2017. Call us for more details.
Annual costs of Membership
The cost of the basic membership is based on a 12 month period and is dependant upon the number of employees. The below prices are exclusive of VAT and are effective from the 1st April 2023. Prices are subject to change. Terms & Conditions apply.
COMPANY SIZE
(NUMBER OF EMPLOYEES)
NEW MEMBERSHIP FEE
ANNUAL RENEWAL FEE
TWO YEARS FIXED PRICE MEMBERSHIP
THREE YEARS FIXED PRICE MEMBERSHIP

1 – 5

£410.00

£310.00

£690.00

£985.00

6 – 50

£575.00

£475.00

£990.00

£1435.00

51 – 249

£735.00

£635.00

£1290.00

£1885.00

250 +

£1095.00

£995.00

£1890.00

£2785.00

Trade/Association Scheme

Prices Available Upon Request
Become a Member
If you would like to have access to the above benefits and services, then please apply to become a member of the CE Marking Association today. To enrol please fill in our application form or call us on 01564 792349.