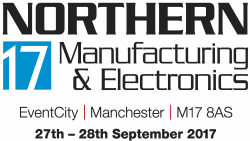 The Northern Manufacturing and Electronics show is a large exhibition that is hosted every year by ETES (European Trade & Exhibition Services). This year the two day show is being hosted on the 27th & 28th September at Event City (Manchester, M17 8AS) and we are happy to announce that ETES have invited the CE Marking Association to provide two seminars on CE Marking in 2017 and beyond.
Mike Foster, Managing Director of the CE Marking Association, will be presenting a FREE seminar covering an overview of the CE Marking process and then looking at recent and forthcoming changes. Mike will be presenting his seminar at 12:00 on the 27th September and 13:00 on the 28th September, giving visitors a fantastic opportunity to speak to Mike about their CE Marking requirements.  The CE Marking Association will also have a stand at the show, so if you do not get an opportunity to attend a seminar, then you can visit our stand, which will be manned by Jon Barfield, Product Compliance Engineer at the CE Marking Association.
The show and seminars are free to attend and there is free parking on site.
If you are keen to attend the show and our CE Marking seminars, then please register today on the ETES Industry North website: http://www.industrynorth.co.uk/
Click here to download a copy of the presentation (.pdf – 3.5Mb)
We look forward to meeting you at the show.
---
Comments are closed.