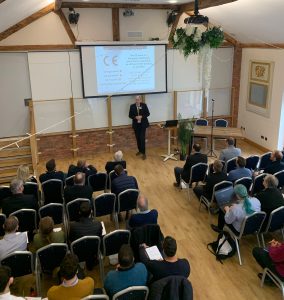 The CE Marking Association's Annual Seminar was held yesterday (3rd November) with addresses from Oxford Innovations (Formally EGS) and Manufacturing Technology Centre (MTC) as well our guests from the UK Government Department of Business, Energy and Industrial Strategy (BEIS) and a number of our own in-house speakers.
Following the virtual seminar we hosted last year, it was fantastic to be able to meet the majority of our delegates face-to-face however at the same time, we were happy to be able to offer remote access to those unable to travel.
Following the unavoidable last minute cancellation of BEIS in 2019 due to the General Election and Purdah rules, I am glad we were able to offer them a platform to detail how product compliance will shape up as we move forward. They have asked us to thank the seminar for the challenging questions and feedback which they will take back.
We would like to thank all our delegates for attending and hope that you found the day informative and productive. Copies of all of the presentations are now available from within the Members' area of our website.
If you would like to discuss any of the topics raised, then please call us on 01564 792349
---
Comments are closed.